RoomB: De Centrum @ Kajang (RM650/month)
Room B (0sqft)

3 bedrooms condo

Rented

Available: Rented
Cleaning Service

Weekly Maid

Free Repairs

Community Manager
Basics
Property ID:

2018010629B

Floor

20/20

Type:

3 bedrooms condo

Area:

Kajang
This is located at Jalan US 1 of De Centrum in Kajang, Selangor. Completed in 2008 with two blocks of 20-storey condo, Block A and Block B, housing 320 units in total.

Residence is also located amidst the refreshing greenery in the neighbourhood of the Kuala Lumpur Infrastructure University College and University Tenaga Nasional (UNITEN). As part of the De Centrum mix-development, the De Centrum Mall is the nearest shopping mall with De Centrum Unipark, while the IOI City Mall Putrajaya is about 10 minutes drive away.

Easily accessible via major road networks such as the Kuala Lumpur - Putrajaya Maju Express (MEX) highway, Besraya highway, the Silk highway and the North-South highway.

Facilities:
- swimming & wading pool
- kindergarten
- covered parking bays
- tennis court
- gymnasium
- convenience shops
- 24-hour security surveillance
- smart card access systems.
Facilities
Shared:
AC

TV

Kitchen

WIFI

Fridge

Shower

Washer

Sofa
Private:
AC

Drawer

Bed

Balcony

Table
NOTE: We never accept CASH payment. Please make sure your payment is made to Grasp Room Asia SDN BHD
Including Wifi & Water
Private balcony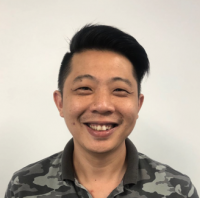 JD